CozyCloud™ Deluxe 2-in-1 Adjustable Memory Foam Pillow
Sale price
$99.97 USD
Regular price
$199.00 USD
Unit price
per
While all of our CozyCloud™ pillows have our Ortho-Adapt™, self-adapting technology that allows it to support your spinal curves, you can also now you can get the thickness and firmness level you desire as well.  If you are having trouble finding a pillow that's the right firmness or thickness for you, don't settle! Our CozyCloud™ Deluxe Memory Foam Pillow offers all the comfort and contouring of our Original model, but comes fully adjustable to fit your comfort needs. This innovative 2-in-1 design allows you to adjust the firmness and thickness of your pillow in seconds, giving you two amazing possibilities!  Inside your CozyCloud pillow is one generously filled fine shredded memory foam insert (the blue color one) and slimmer insert (the purple one).  Simply remove the thinner purple fill insert for a softer, sleeker profile, or add it back in for a firmer all-around support, making this the ultimate 2 and 1 pillow design! Unlike other adjustable pillows on the market that make you deal with messy shredded foam that get's everywhere, this adjustable pillow offers a no fuss or mess alternative, that feels even more smoother than the competition, giving it a down-like feel that still won't flatten out!
Share
favorite_border
compare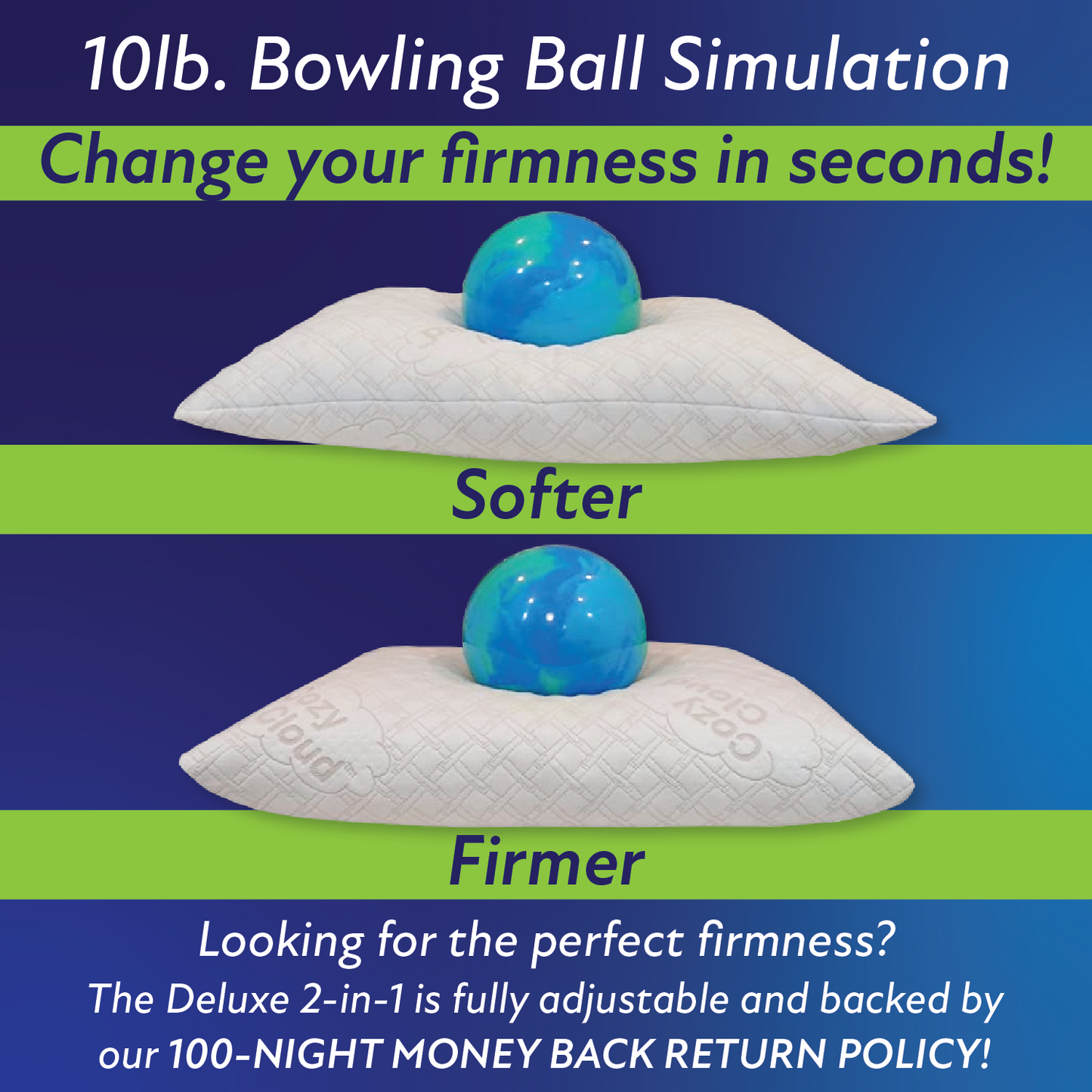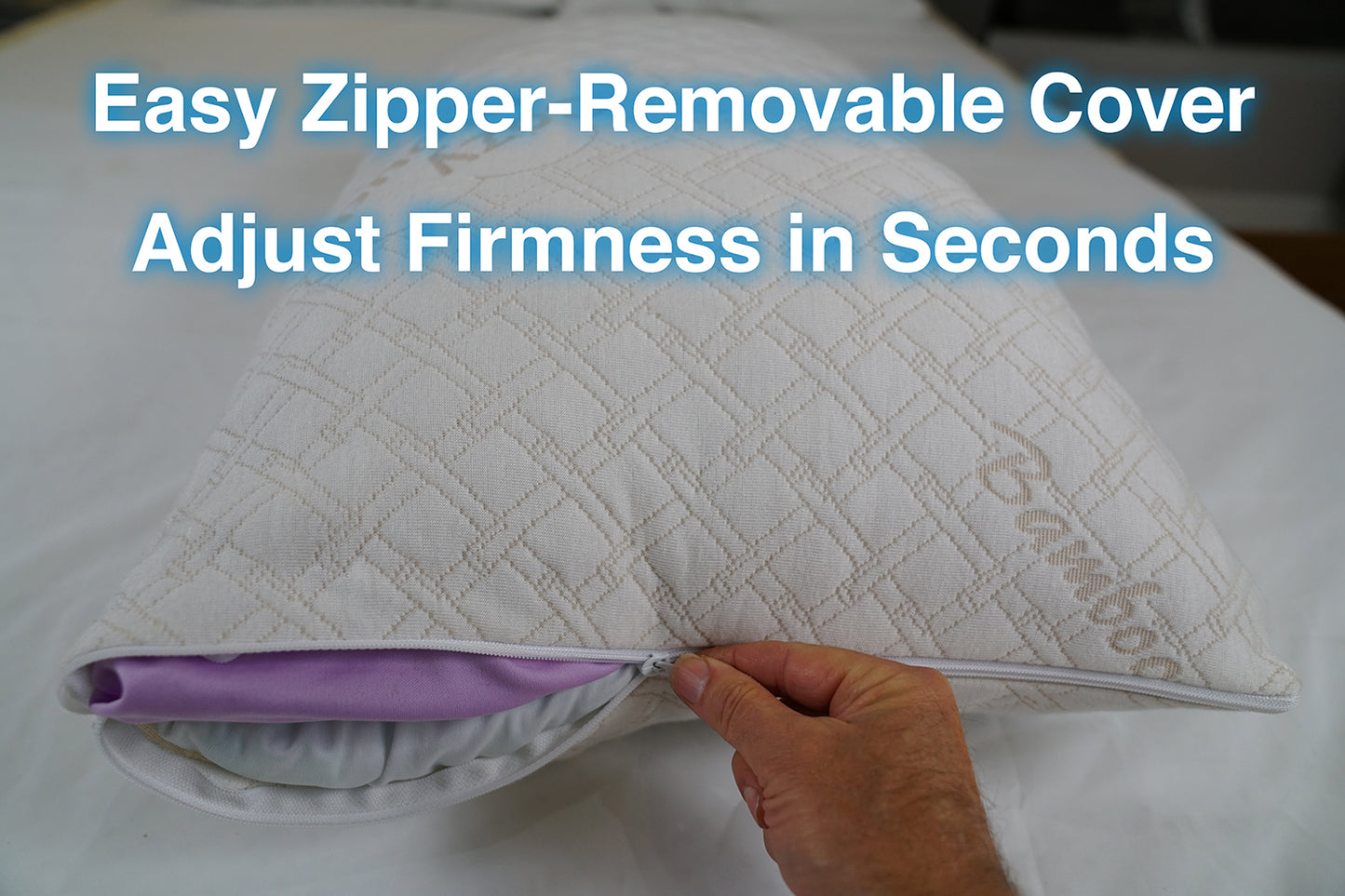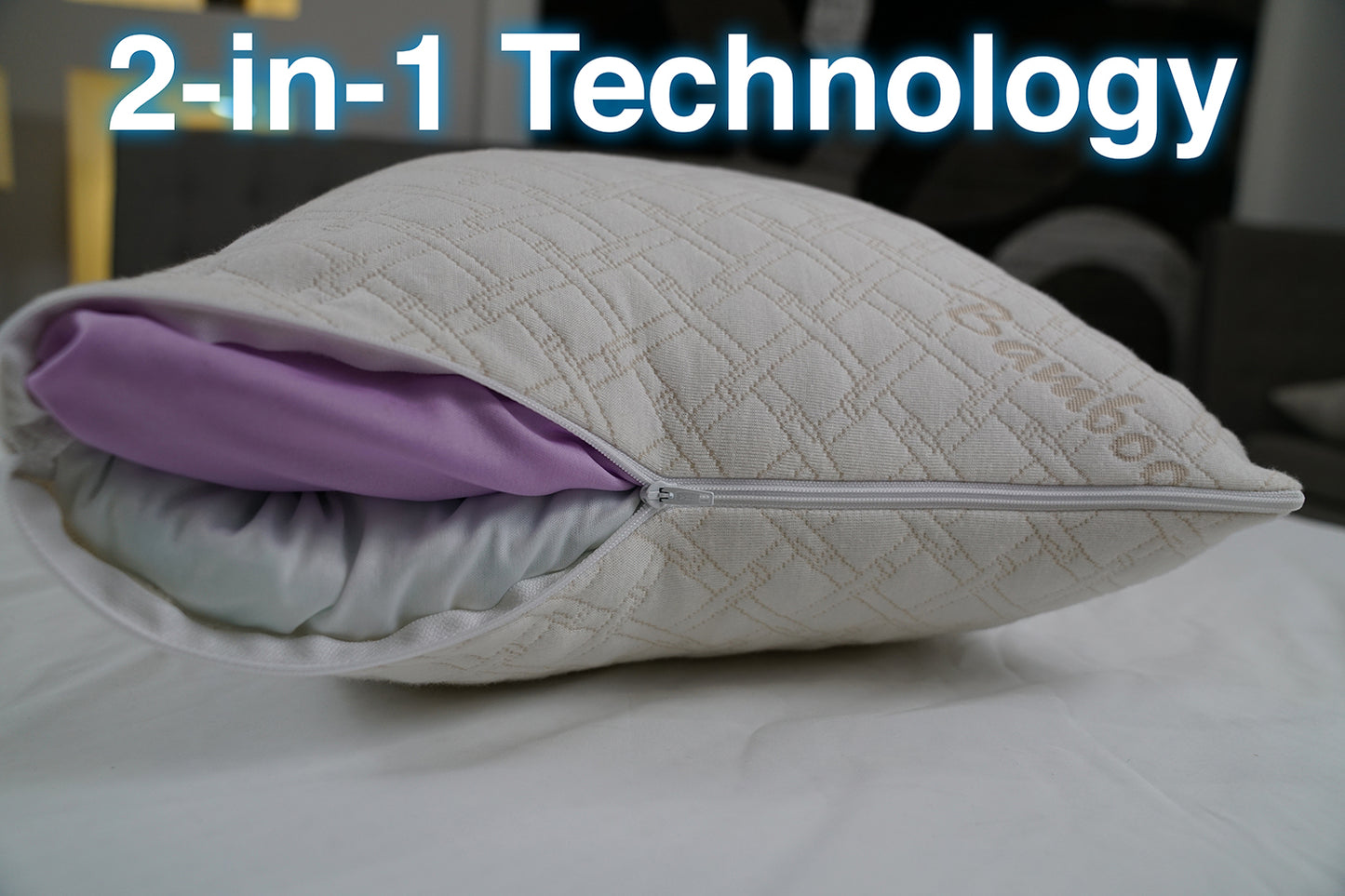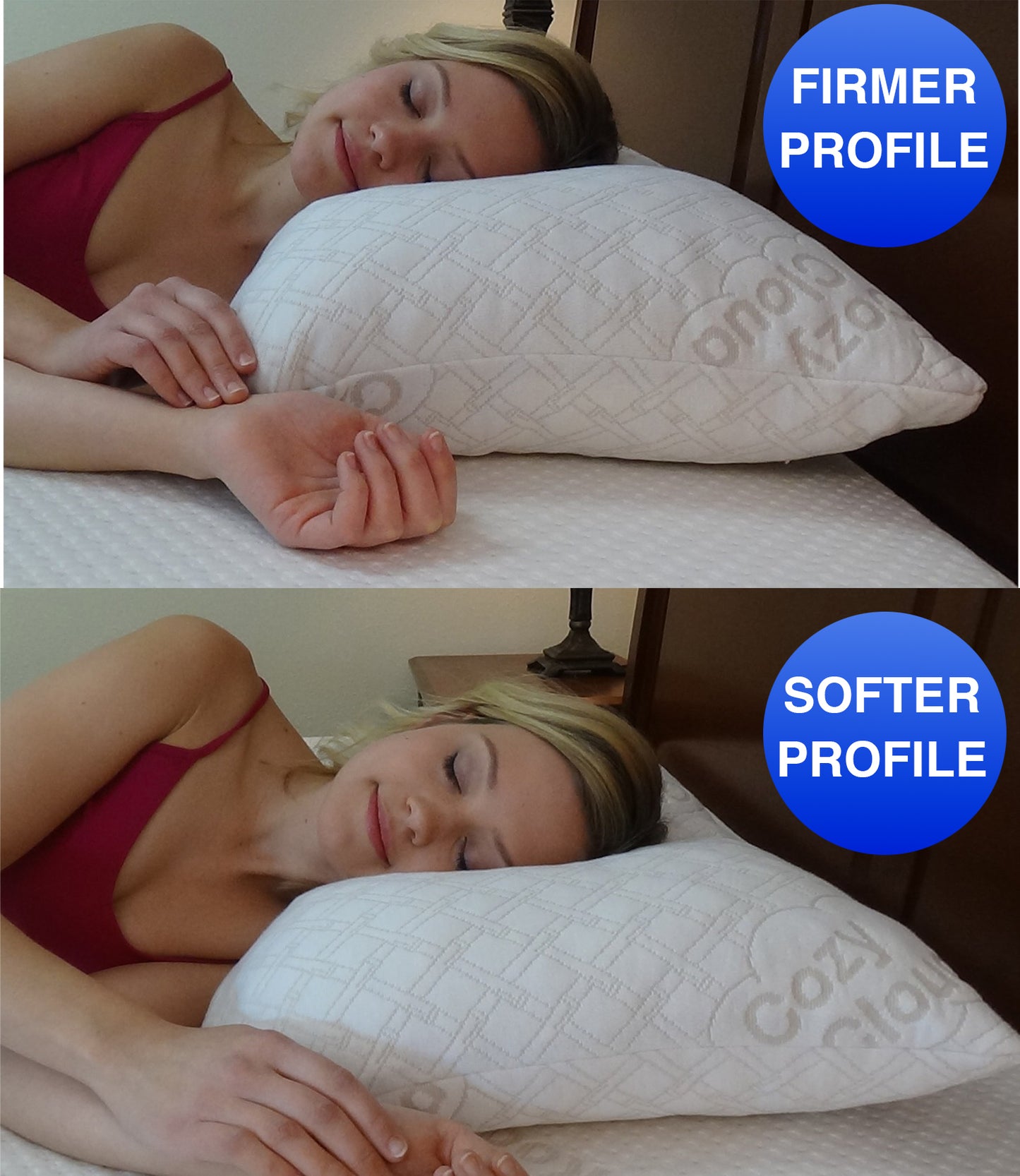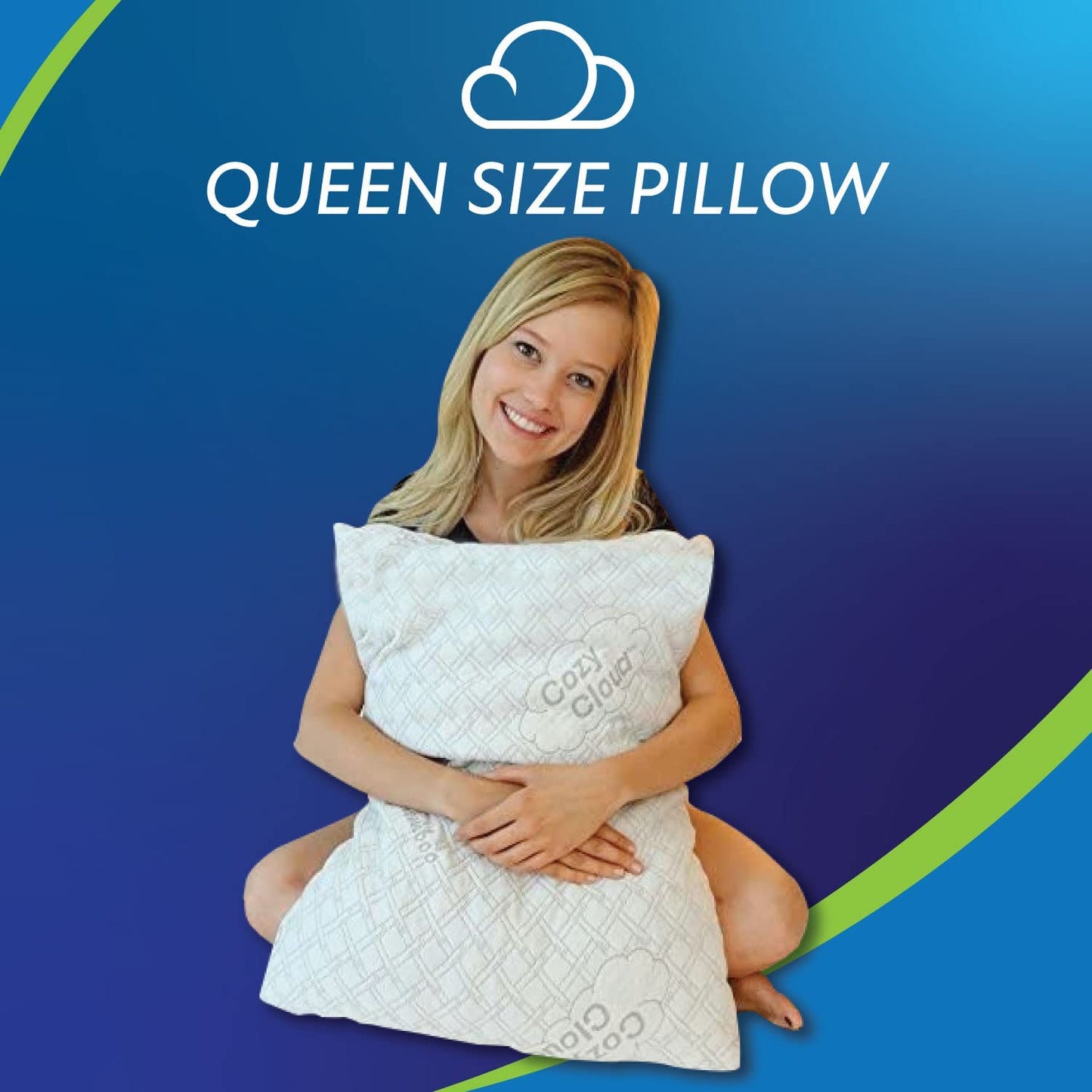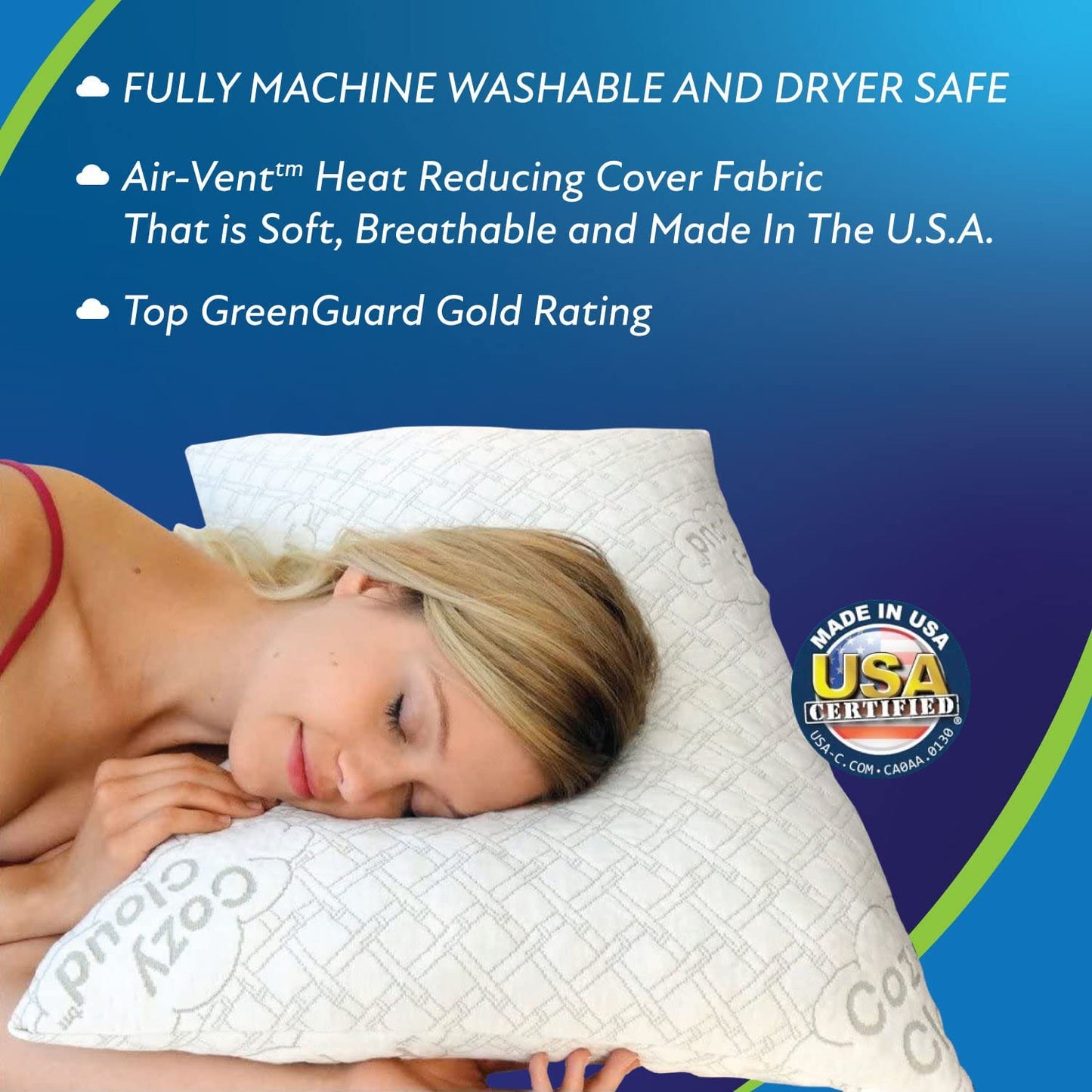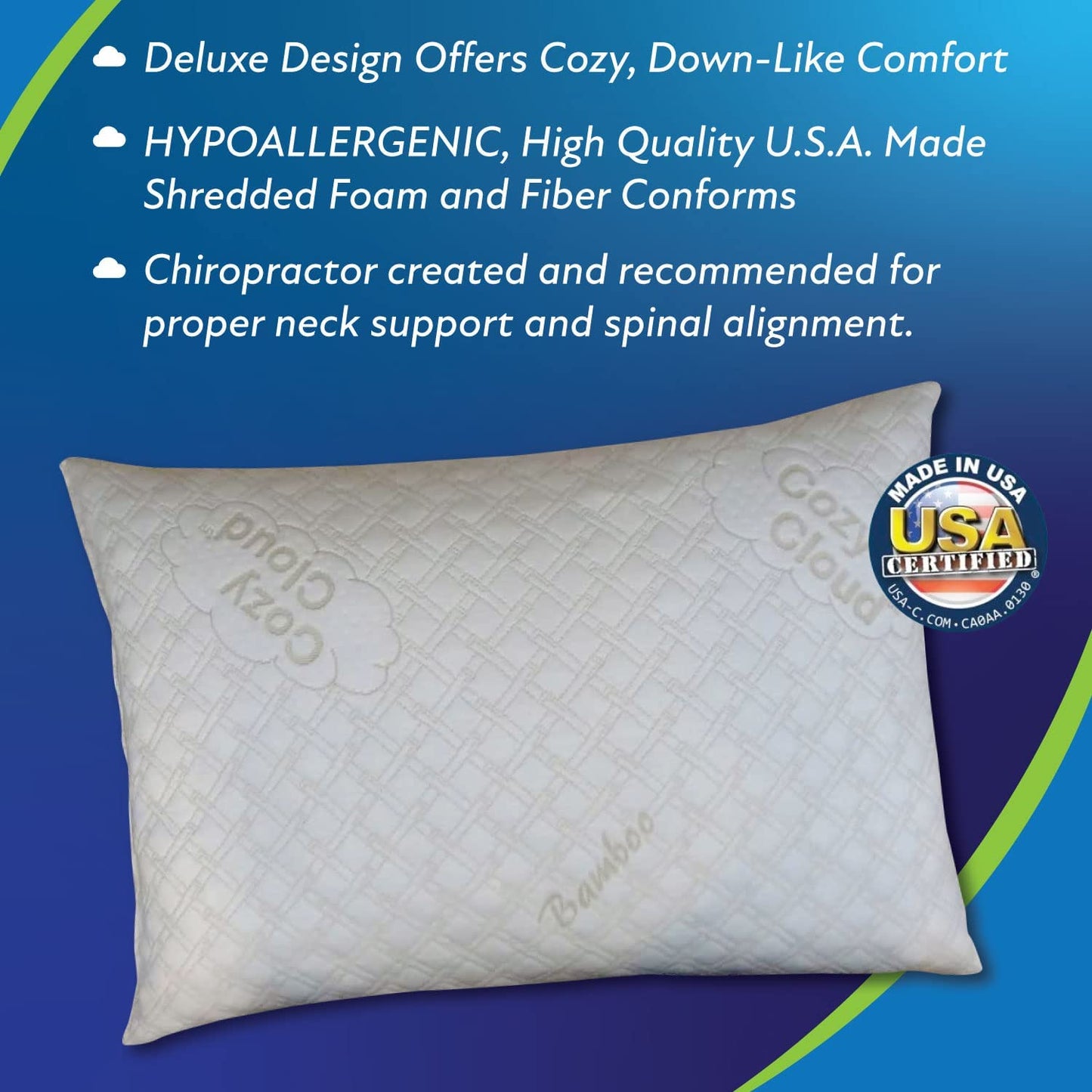 Cozy Comfort With Ortho-Adapt Self-Adjusting Orthopedic Support That Never Goes Flat! Shaped like a regular down pillow, but stuffed with hundreds of very small pieces of a plush MADE IN THE U.S.A. foam fill and fiber blend, the CozyCloud™ Deluxe combination bamboo memory foam pillow is quite simply the most comfortable pillow you will ever own! This Cloud-like pillow will cradle your body in only the way that high quality shredded foam can, for a down-like comfort that won't flatten out. The CozyCloud pillow does not need to be continually fluffed and will offer you extra support with its superior contouring abilities. Our CozyCloud pillow gives universal comfort that adapts to the shape of your body. The CozyCloud pillow is fully machine washable thanks to its Air-Vent™ bamboo breathable cover matrix, making it the most versatile, cool and coziest pillow available. We have made this RISK FREE with our 10-YEAR WARRANTY and 100-Night, No Hassle Return and exchange policy. Don't accept cheap fillers or overseas made substitutes...order the CozyCloud Deluxe pillow today!
• BAMBOO, SHREDDED MEMORY FOAM AND DOWN ALTERNATIVE Combination Pillow That Gives Plush Down-Like Comfort That Won't Flatten Out!
• 2 in 1 ADJUSTABLE HEIGHTS AND FIRMNESS, as well as SELF-ADAPTING TECHNOLOGY that makes it PERFECT FOR SIDE, BACK AND STOMACH SLEEPERS Alike! - Thanks To Our Ortho-Adapt technology, you will get FINE CLOUD-LIKE FILL that immediately Conforms to your individual size to give you ADAPTABLE ORTHOPEDIC SUPPORT that will fill in the gaps for stomach, back and side sleeping, giving you Cozy Plush comfort, while allowing your head and neck to keep your spine in perfect alignment all night long.
• COOLING - Air-Vent Heat Reducing Cover Fabric That is Soft, Breathable and Made In The U.S.A. Contains 43% Viscose of Bamboo, 57 percent Polyester In a Breathable Matrix For Better Airflow Exchange.
• 100% USA MADE Materials and Manufactured In California – We Use Local Labor To Give The Highest Quality Product, While Supporting Our Local and Domestic Economy.
• PAIN RELIEF – WEIGHTLESS BUOYANCY REDUCES PRESSURE POINTS AND SUPPORTS THE SPINE –CHIROPRACTOR CREATED to provide proper neck support and spinal alignment to help relieve neck pain stress and ease tension. The Orthopedic support will contour your joints and fill in the gaps to even out the pressure and the spinal alignment. The Cozy Cloud-Like weightless buoyancy allows PRESSURE RELIEF for the NECK, SHOULDER, UPPER BACK, HEAD and TMJ.
• FOR ADULTS, KIDS AND EVEN CPAP USERS - WITH COZY COMFORT AND SUPPORT You will be assured the most amazing sleep! Our soft and breathable bamboo pillows are perfect for sleeping or just having a nap. The proprietary cloud-like fill will adapt perfectly around your CPAP device, but the pillow itself works perfectly to help DECREASE SNORING as well as help REDUCE INSOMNIA.
• Hassle-Free 100-Night RETURN OR EXCHANGE POLICY - You can RETURN OR EXCHANGE your pillow during the first 100 Nights from when you receive the pillow. Compare with MyPillow, Coop Home Goods, Tempur-Pedic, Purple and Other Brands During the Sleep Trial and We Know You Will Love Your Cozy Cloud Pillow Enough To Choose It Every Time!
• HYPOALLERGENIC AND GREENGUARD GOLD CERTIFIED – Our all U.S.A. Made materials are eco-friendly and made with CertiPur-US Certified Low V.O.C. foam. It does not contain any harmful chemicals and the whole pillow has been rigorously tested and Certified as GreenGuard Gold by UL laboratories, the industry's most stringent V.O.C. (Volatile Organic Compounds) testing. Naturally hypoallergenic this pillow is great for people and the environment. Safe and great for all 4 seasons.
• 10-YEAR WARRANTY - We Guarantee That your pillow won't flatten out over its 10-year life. Note please check sold to by seller name. The CozyCloud deluxe pillow is an exclusive product of iDreamBest, LLC and ONLY CozyCloud deluxe pillows SOLD BY iDreamBest, LLC are GUARANTEED TO BE GENUINE and covered under our 10-year warranty and 100-night hassle-free return policy.